nothing to do...
It feels so good to be able to sleep for hours and hours and hours again! Haha.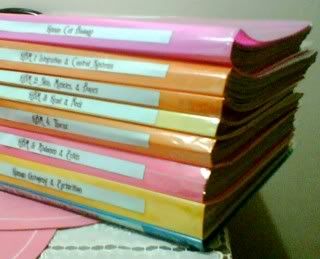 These are my compiled transcriptions and handouts. It amazes me how I've been able to cram all these things plus the stuff I've read from my books into my brain... only to forget them afterwards. Most of my knowledge on anatomy and physiology is... somewhere over the rainbow. Hehe. It's definitely much easier to retain procedural information. But I'm so happy because I was able to pull my grades up and maintain my scholarship (which sponsors my whims and caffeine supply). Thanks to HD 201 (Human Ontogeny and Parturition) which has been my best subject this semester. But no, I haven't any plans of becoming an OB-GYN. Oh, the horror...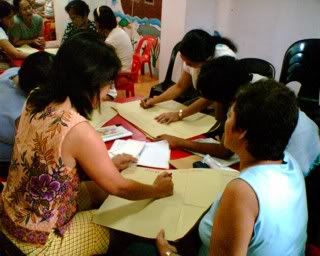 Yesterday, I joined a CHW training activity sponsored by AKAP in Pasay. The terrible part was getting squeezed inside a jam-packed LRT coach (I almost got ripped by the door into two) and walking at high noon. But I had fun while interacting with the CHWs because they were so nice and cooperative. We taught them how to take blood pressure and had a small group discussion with them regarding certain common viral diseases (on which I had to read about only the night before because I don't really know much about these things yet). It was the perfect opportunity for their misconceptions on these illnesses to be raised and clarified (e.g.,
"Bawal maligo kapag may bulutong o tigdas"
). These CHW trainees are being taught how to handle the problems of their community, and they shall be graduating by the end of April. I'm glad to have shared some of my time with them.
[deviantART]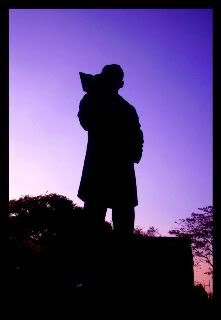 [taken at Fort Santiago, Intramuros]
ivy
June 25, 2006 01:09 AM PDT

buti ka pa you've compiled your transes.

bloghoppin'... :)
anisah
May 13, 2006 01:49 AM PDT

Yehes naman! Med cum laude pala ah. Go radioactive sis! :D
reci
May 10, 2006 11:12 PM PDT

congrats! ibang lebel ka talaga mere, bihira lang ang makapagmaintain ng oblation scholarship sa medproper! Mere for med cum laude!!! hehe.
::